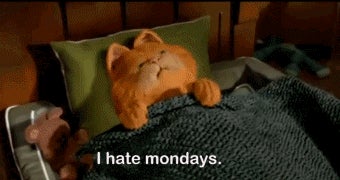 What did it take for Bill Murray sign up for the live action Garfield movie in the first place?

A) A Billion dollars
B) Never having to be in another Ghostbusters / Caddyshack movie ever again
C) He thought it was written by Joel Coen of the Coen Brothers instead of Joel Coen of "Cheaper by the Dozen" and "Daddy Day Camp" fame
D) Drugged lasagna (research for a sequel to "Where the Buffalo Roam" )
The answer may surprise you...
....
....
...
The Answer is C:
http://www.businessinsider.com/bill-murray-vo…

I hate Mondays too.